Working with war veterans
17th May 2017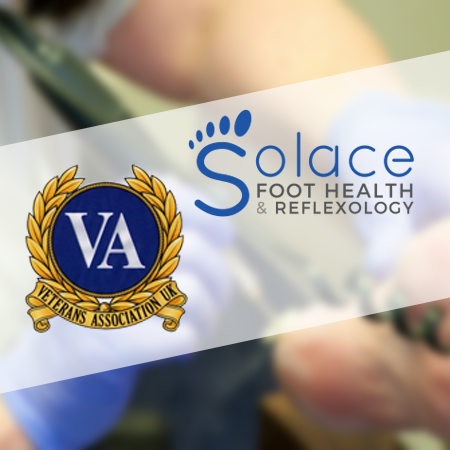 We know that one of the key approaches you should take when working with a client on their personal care is respect.
We understand that some of our clients may be vulnerable and unable to voice their concerns during the treatment or, could even be embarrassed by their need for personal care.
Here at Solace we have built some key partnerships with other companies that are involved in the world of care, helping our team to set standards for the foot care industry.
One of the areas that we feel passionately about is working closely with war veterans.
War veterans are those that have retired from the services.  They have spent their lives dedicated to protecting others and standing proud for Queen and Country.
These men and women have spent a large chunk of their adult life giving to others and we feel that they deserve to have something given back to them.  This is why we have created a strong relationship with our local veteran's charity, Veterans Association UK.
Why we work with Veterans Association UK
We are passionate about supporting those who have served our country and now need support from their local community.
Veterans Association UK are a fantastic charity that provide support for veterans and serving military and their families around the UK.  With headquarters in Burnley we are extremely close to this charity and have seen the brilliant work they have carried out for those in our local area.
Part of their mission is to ensure everyone they help has access to housing and basic health care, something that we feel strongly about as we feel everyone should have access to foot health treatments.
Anyone can become a member of Veterans Association UK and offer their expertise and help to provide care and help for those in need.  If you would like to find out more about how you can work with this local charity visit their website.
Working with respect – About Solace Foot Health and Reflexology
Whilst every member of our team is fully trained in the actual skills required to be able to deliver foot care to our clients, they have soft skills too.  We only send out professionals who are empathic and respectful in their approach to their clients.  They take their time, talking to them and making sure that they are happy and comfortable each and every stage of the process.
Whether it is nail cutting and filing or reflexology, we have worked hard to always provide the very best service possible.
If you know someone who requires a dedicated and professional foot care service then get in touch. Solace Foot Care is the professional company that you are searching for.
We hold a nail cutting and filing drop in clinic every Friday between 10am and 12pm at the premises of the Veterans Association where all will be welcome to have their nails professionally cut and filed.
We always welcome new clients and we are there to help make sure their feet feel great and they feel great too.
Contact our friendly team by calling 0333 3583838 or email us at [email protected].