How to Soothe Aching Feet
14th July 2017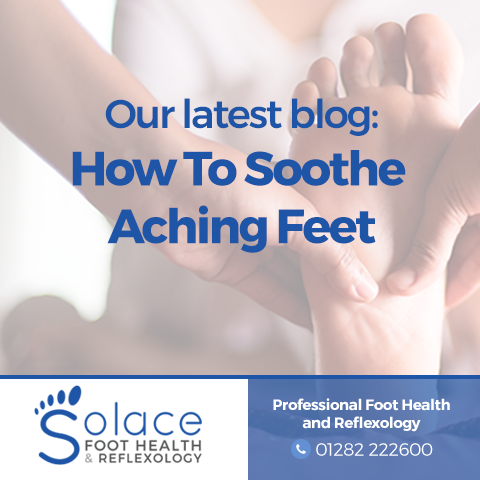 Your feet carry the entire weight of your body each time you stand or walk and if long days on your feet is a regular part of your daily life it is likely that you'll struggle with aches and soreness, especially if you're somebody that wears high heels.
Due to the fact that feet are so important, it is vital that you look after them and try to reduce any tension and inflammation.  To give you an idea on how to soothe aching feet, we have put together our top five tips.
How to Soothe Aching Feet
Soak your feet
After spending a long period of time on your feet, one of the best ways to relax your muscles and release tension in the feet is to soak them in warm water.  Not only does this induce relaxation, it is a brilliant way to alleviate pain and reduce aches.
Simply fill a large bowl or the base of your bathtub with warm water and soak your feet.  Add essential oils to the water and their aromas will help you relax.  Essential oils such as Lavender promote sleep and are great for healing.
Keep your feet elevated
Feet can become swollen for several reasons, one of which is due to the heat generated through wearing socks and shoes or spending hours standing up.  Swollen feet cause aches and discomfort, therefore, making it painful to walk.
Elevating your feet whilst sitting or lying down can reduce swelling and inflammation.  Remove your socks and shoes to allow your feet to cool, prop your feet up and after a short while the swelling and achiness will begin to reduce.
Stretch regularly
When we exercise, it is recommended that we stretch out our muscles afterwards to prevent tension and aches, however, most people forget to stretch out their feet.  Stretching your feet will help to dramatically reduce the achiness and pain caused from constantly being active.
You can do this by rotating your ankles clockwise and anti-clockwise and pointing your toes towards the ceiling and then the floor.  Doing this will also relieve tension in your lower legs. Make sure you're seated when carrying out these exercises to prevent you from losing your balance.
Have a full foot treatment
If you are somebody that spends a lot of time on your feet, it is likely that you suffer from dry and cracked heels.  After spending hours standing or walking the heels of your feet can become sensitive, sore and achy.  One of the best ways to manage this is by undergoing a full foot treatment that focuses on the removal of dry and hardened skin.
We offer a full foot treatment in which the hard skin on your heels is filed down leaving you with much smoother and less painful heels.
Contact us!
If you would like to speak to one of our foot health professionals about how to soothe aching feet or would like to book a full foot treatment, please don't hesitate to give us a call.
We are a professional foot health and reflexology company that provide professional foot care services to people in Lancashire and North Yorkshire.
All of our foot health and reflexology treatments are performed by our highly trained foot health assistants and can be carried out in our welcoming clinic or in the comfort of your own home.
You can contact our team on 0333 3583838 or email us at [email protected] and we will be happy to help you.